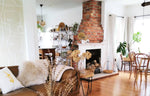 Welcome to my new Journal series,

Home Dwellers.

 



With this series I'll be taking you on a tour inside interesting and eclectic homes, as well as asking what inspires the creative people who live inside.


--------------------------------


First up, let me introduce artist and designer, Maiko Nagao. 

You may already be familiar with her art or follow her popular instagram account @maikonagao. I instantly feel in love with her style and am very proud to be showcasing a selection of her art prints in the online shop. 
Maiko has kindly let us step inside her art-filled Auckland home and shared her secrets for creating an eclectic and relaxing family home that is full of heart and vintage finds.

Take a look inside...
Who lives in your home?:
Me, my husband Mike and our son Kaito who is 4.
Describe your home and its style?:
Our home is a tiny brick art deco home. You could say it's a true eclectic mix of everything we love! From vintage finds, up-cycled furniture, plenty of art by Kaito and I, indoor plants, earthy elements like dried flowers and woven baskets which creates so much amazing texture.
Have you got any future plans for your home?:
Yes we do! We have plans to extend to make room for our growing family. We are putting in a new bedroom, an ensuite, garage, deck and lounge. We also get to redo the main bathroom, kitchen and little Kaito gets a wee playroom too! It's going to be a very busy but exciting year for us.
What is your favourite spot in your home?:
Awww, I have so many favourite spots! Top 3 would be our kitchen open pantry, gallery wall by the front door and Kaito's bedroom. Well, they're the ones that I can't stop staring at anyway.
What is your proudest DIY project or budget find?
Proudest DIY project and budget find would have to be our ex villa fireplace mantel we found for $1! We painted it white and it looks so amazing against the brick fireplace.
Any advice on creating/decorating a welcoming family home that you love and on a budget?
I think we achieved just that with our home. We didn't have much left over to renovate/decorate/furnish our home after we bought it. Every single piece of furniture we have is either second hand, passed down by family or up-cycled. I love that saying, "If you fill your home with the things you love and it will never go out of style." 
Thank you so much Maiko!
(Photos courtesy of Maiko Nagao)