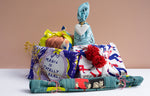 Looking for a unique way to wrap presents? 
Try a traditional Japanese wrapping technique called Furoshiki to inject some creativity into your gift-giving. Both beautiful and functional, the Furoshiki, or wrapping cloth, provides the recipient with an extra bonus gift they can actually use! 
I tried the technique with our colourful Blue Q tea towels which add the perfect colour pop and touch of whimsy. Here are a few techniques I used to suit different gift sizes and shapes. You may also like to watch the video demo I created at the bottom of this post.
Envelope Wrap
Perfect for a book, box of chocolates or any flat rectangular object. Place the object on one of the short edges and fold in the long sides. Roll up and tie with a ribbon or twine to fasten. I also like to add a bit of decoration like dried flowers, greenery, or baubles to make it look extra festive.
Tea towel used: Magic is Totally Real
Envelope Wrap Diagonal
Same as above but place the item diagonally in one corner.

Bon Bon Wrap
Ideal for cylindrical gifts (or wrapping our Magnetic Print Hangers!). Just place the object on one of the short sides, roll up and tie off each end with a ribbon or twine.
Tea towel used: Go Away
 
Box Wrap
Perfect for small boxes or tins. Place box in centre of tea towel with the straight sides of the box aligned to the corners of the fabric. Pull up fabric on two opposite corners and tuck in over box, then tie off the remaining corners. If it's a small box you should have enough fabric to make a knot. Use a ribbon, rubber band or string to fasten the corners if wrapping a larger box. I love adding pom poms or tassels to make it extra fun.
Similar style tea towel: I Don't Like Anyone in the Morning
Similar style tea towel: Greetings from Lake Wine
Wine Bottle Wrap
Stand your bottle up in the centre of the tea towel and pull up the sides to gather around the neck of the bottle. Fasten with a ribbon or twine.
Tea towel used: Artist at Work
Click the video above to watch my Furoshiki demo.
--------
Traditional Furoshiki wrapping cloths are large pieces of fairly thin fabric which allows you to wrap almost anything, however, using tea towels you are limited to more smaller sized gifts. But with some ribbon, wool or any accessories you like you can come up with lots of unique and interesting combinations. I hope this inspires you to give it a go yourself!
Happy wrapping,
Felicia
To recreate this look you can shop our full Tea Towel Collection here.