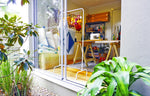 The workroom opens out onto a courtyard – a nice little spot to sit for a cuppa and admire our much-loved magnolia tree. 
Come in and have a look around my workspaces... 
My husband and I both work from home so when we built our house we knew we had to design it to suit a young family, but also had to allow room for our respective workspaces. My husband needed a sound-proof studio (aka musical man cave), I wanted/needed a Martha Stewart inspired creative craft cave.
My office
The dollhouse was salvaged from a kerbside collection, painted, wallpapered and attached to the wall – the ideal home for my collection of random miniatures. 
My smaller office space is where all my 'serious' work gets done but since starting Home Dweller I've also taken over the neighbouring guest bedroom, using it as a workroom to sew, keep stock and pack orders.
My workroom – the large trestle table was a Gumtree purchase and while I love the look of the reclaimed door tabletop, it's not so practical as a sewing bench. So many needles and pins have been lost in those grooves!
Don't be fooled by its ordered appearance, it rarely looks this tidy. Right now the work table is doubling as a wrapping station for Christmas gifts, as well as the fabric remnants of a crazy-looking Spiderman mask my son wanted me to make him!     
The natural light and leafy outlook make both rooms the perfect work environment and I feel very lucky to have the space to call my own.
Felicia
x